The Future Skills Forum was a first-of-its-kind national forum that brought together 100+ representatives from national and state skilling departments, Civil Society Organisations (CSOs), and thought leaders from the skilling ecosystem to drive collaborative action to help young people acquire critical skills for the future. 
The event was a platform for conversations around megatrends shaping the future of work and learning. It showcased best practices adopted by stakeholders in collaboration with CSOs to make young people future-ready. 
Additionally, through conversations with educators and learners, stakeholders also gained insights into the challenges faced by government-run skilling institutions in supporting youth to become future-ready. 
The event was a testament to the efforts of CSOs, Industry, and Government in transforming the Employability Skills curriculum taught in ITIs. A digital version of the ES curriculum was launched at the Future Skills Forum in collaboration with the Ministry of Skill Development and Entrepreneurship (MSDE).  
Aimed at inculcating a self-learning mindset amongst learners and introducing them to innovative pedagogical methods like blended learning, the 12 modules (158 digital lessons) will equip learners with skills in financial, digital literacy, career development, and entrepreneurship. 
Facilitating anytime, anywhere learning, the digital lessons will be accessible to more than 2.5 million ITI learners through the Government of India's Bharat Skills Portal and Quest Alliance's Quest App. The lessons are drawn from the upgraded ES curriculum launched by FRSN and the Ministry of Skill Development and Entrepreneurship in September 2022. 
"I am glad that industry leaders have come together to strengthen the skilling ecosystem and develop solutions to leverage new technologies, like Artificial Intelligence, Internet of Things (IoT) to create a future-ready workforce." – Shri Dharmendra Pradhan, Minister of Skill Development & Entrepreneurship.
Additionally, the Future Skills Forum also involved conversations with stakeholders on making skilling institutions future-ready. Sabina Dewan, President & Executive Director at Just Jobs Network, in the panel discussion- 'Future Trends Shaping Industry 4.0 and Recommendations for ITI Transformation,' highlighted the need for broader reforms in education. "As important as skills training is, it must be accompanied by other investments. We have to make sure that education and skills training speak to each other."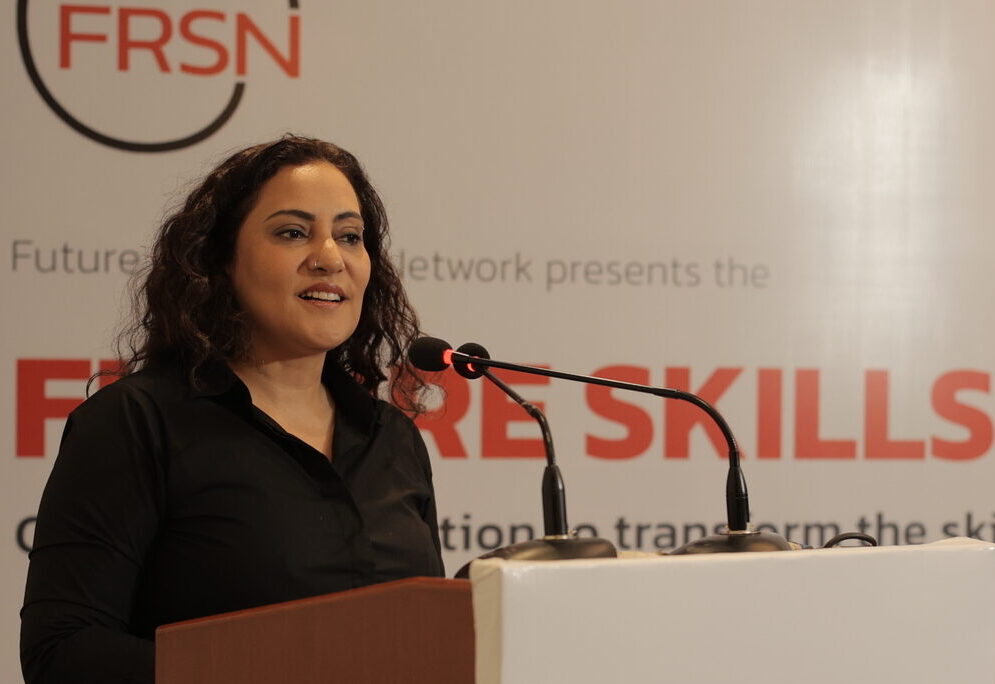 Panelists also emphasized the need for institutions to foresee future trends to prepare young people for the industry. "While the Industry is thinking about Industry 4.0, the government needs to be thinking about Industry 5.0," – Praveen Saxena, CEO of Sector Skills Council for Green Jobs.
Similarly emphasizing the role of technology in imparting future skills, Ishvinder Singh, India Lead, NetAcad & Skills, Social Innovation Group, Cisco, said, "The skilling model cannot be static, and technology can play a significant role in the way skills are imparted."
However, no conversation on skilling is complete without understanding the ground realities of educators and learners. "Industry 4.0 will require educators to upskill too," said Ranjan Sarma, Employability Skills Instructor, Govt ITI Biswanath, Assam, emphasizing the role of the educator in equipping learners with future skills.
Similarly, Thasni Shajahan, a student from Govt. ITI, Kazhukottam, Kerala, said, "Soft skills need to be incorporated in ITI curriculum to make learners understand their own realities," thereby stressing the importance of self-reflection in aiding learners to make conscious career decisions.
The event also drove conversations around good practices adopted across the skilling ecosystem through the panel discussion – 'Good Practices Adopted by Government, Industry, and CSOs for Scale and Action through Collaboration,' aimed at highlighting the work done in the ecosystem and recognizing contributions towards addressing challenges of youth employability.
"We have well-functioning placement cells. Our ITI learners have 76% placements through campus placements which are better than some engineering colleges in the country," said Veera Raghava Rao, Commissioner, Commissionerate of Employment & Training, Tamil Nadu, on the role of placement cells in Govt ITIs across Tamil Nadu.
Additionally, Mousumi Sen, Joint Director of Craftsmen Training, Directorate of Employment & Craftsmen Training, Assam, talked about the relevance of creating an industry-enabled environment in the ITI. "Given this scenario in a changing market landscape, it is important to understand the role of collaborative action in bridging the gap between the industry and institutions to ensure that young people are prepared to enter and excel in the world of work," she added. 
Based on the insights throughout the day, stakeholders participated in a group activity to create a 'Charter of Collaboration.' The charter was created with the intent to scale existing work done through the highlighted good practices and call on other relevant stakeholders to come together and collaborate to initiate new interventions across the ecosystem.